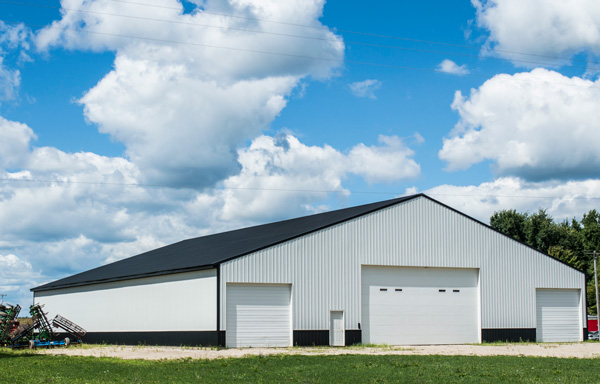 Your siding is more than just your building's protection against the elements, it also provides style, color, and personality to your home or office. You need a siding material that will provide you with superior, high quality performance while also maintaining the charm and allure of your property. At Michigan Steel & Trim, our steel siding provides you with a wide variety of profiles, colors, and finishes to match the character of your building while also providing your home or office with a lifetime of maintenance free durability.
Our Steel Siding
Our profiles, colors, and finishes are as diverse as your projects, allowing you to find the right steel siding to meet the aesthetics of your project. By utilizing steel siding, you are investing in a siding solution that will bring your home or office maximum durability, strength, and protection while maintaining your style and personality. With beautiful and elegant siding profiles, including:
Michigan Panel: Designed and manufactured by Michigan Steel & Trim, our Michigan Panel steel siding provides a classic look to your building that is built with dependability and style.
Cultured Stone: Add a touch of elegance and design to your building with the use of cultured stone. Manufactured to replicate the look of real stone, cultured stone can be used on the exterior of your building, around your fireplaces, and as backdrops of your kitchens, adding personality and charm to your project.
Shake: Crafted to simulate the various aging stages of real cedar, our shake steel siding provides you with the authentic look of cedar wood shakes with all the benefits of steel siding.
Board and Batten: Replicating the popular craftsman style siding, board and batten is manufactured to recreate gaped, vertical boards with accompanying narrow, vertical battens. Steel siding gives you maintenance free, strong siding with all the design and style of board and batten.
Lap: With traditional lap siding, the horizontal boards overlap the boards below to give the desired effect. Lap siding provides the same look and feel as standard siding with the extra protection, durability, and sustainability of steel siding.
Dutch Lap: Constructed to simulate the curved, lap style siding. Dutch lap steel siding provides you with the natural beauty of traditional siding while also providing you the benefits of steel siding: low maintenance, strength, and dependability for a lifetime.
Our Steel Siding Manufacturers
We only work with the best manufacturers to bring you steel siding you can trust for a lifetime. We are proud to distribute and ship high quality, guaranteed steel siding to our customers utilizing brands, including:
For your home or office, you need a siding that is going to deliver a lifetime of strength, durability, and beauty. At Michigan Steel & Trim, our wide selection of steel siding can offer you the same timelessness and natural beauty as traditional sidings with the additional benefits of steel, including: superior performance, long term value, and environmentally friendly. Our manufacturers guarantee their steel siding against chalking, rusting, cracking, and peeling giving you a classically beautiful building that is built to last.
Because we are a manufacturer and distributor of these products, we can refer professional contractors for installation, or deliver the products directly to your project. Call or contact us today to receive your quote or to schedule your statewide delivery.