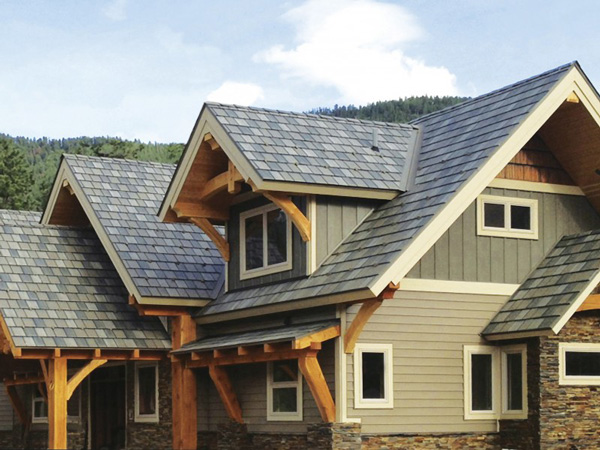 Reroofing your home can be costly and overwhelming. Standard asphalt shingles need to be replaced within 10 to 15 years of installation, causing you to spend more time and money on the upkeep of your home. You want a roofing system that is stylish and classic, that withstands the harsh weather and climate, while also being cost effective. At Michigan Steel & Trim, we provide your home with the elegance of a standard shingle, but the durability of a metal roof, through our variety of Michigan steel shingles designed to last a lifetime.
Steel Shingles
Stone Coated Steel Shingles: Stone coated steel shingles maintain the traditional styles, colors, and look of your classic roofing; but, unlike standard roofing materials, they provide you with a low-maintenance, elegant solution backed by lifetime dependability. Manufactured with a steel base and a stone coated finish, steel shingles are available in a variety of styles and colors. Stone coated steel shingles are lightweight and come with a limited 50 year warranty that provides coverage against:

Hail penetrating the steel panel
Winds up to 120 mph
Corrosion

Painted Steel Shingles: Painted steel shingles provide your home with an extremely long lasting, sleek, and stylish finish. Available in a wide variety of colors and profiles, painted steel shingles will add to the charm and personality of your home. Manufactured with a steel base and a PUDF paint, painted steel shingles add the same classic look as your traditional asphalt shingles with the added durability and reliability that comes with a metal roof, including:

Superior warranty
Environmentally friendly
Completely recyclable
Reduces your home carbon footprint
Decreases total energy bill by reflecting solar energy
Constructed to resemble the look and feel of an asphalt shingle, our steel shingles are manufactured in a wide variety of profiles, finishes, colors, styles, and manufacturers to give your home its charm and character. Steel Shingles are more durable and more reliable than typical asphalt shingles; built to outlast even the toughest weather. At Michigan Steel & Trim, we distribute and ship steel shingles that are produced with a thick, metal substrate and a baked on paint that is guaranteed not to:
When you invest in a steel roof, you are investing in a lifetime of low-maintenance and high durability roofing. Through our steel shingles, your home does not need to sacrifice style for reliability. You can enjoy all the benefits of a durable, strong steel roof with all the aesthetics and appeal of standard roofing.
Your home deserves a beautiful, timeless roof that will last a lifetime. To learn more about our Michigan steel shingles, call or contact us today.
Steel Shingle Styles & Colors