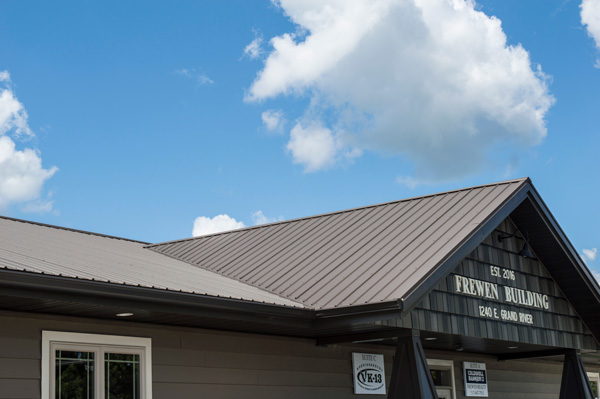 At Michigan Steel & Trim we are proud to produce and manufacturer Michigan Panel steel roofs. Whether you are building a pole barn, constructing a commercial building, or looking for a cost effective way to incorporate a metal roof onto your home, our durable Michigan Panel is the perfect solution for you.
Our Michigan Panel is a premium, first grade 29 gauge metal. A classic steel roof style, our Michigan Panel is a through fastened system installed utilizing exposed fasteners. Our steel roofing is durable and strong with a minimum tensile strength of 80,000psi, allowing your roof to withstand even the most severe weather conditions including:
Ice
Driving winds
Heavy snow
Rain
And more
We can customize and tailor your steel roof to meet the requirements of your job, cutting all the matching trim and accessories within an inch. With an unmatched durability and quality, our Michigan Panel steel roofing is produced with a base of galvalume substrate made out of zinc and aluminum. This superior combination provides your building with maximum corrosion protection helping to prevent rust with a 25 year limited warranty. Our Michigan panel steel roofs are painted using the high quality and 40 year warrantied Valspar Weather XL painting system available in 21 colors. By utilizing Valspar, your metal roof is guaranteed low maintenance with high resiliency.
At Michigan Steel & Trim, our customers are our number one priority. We guarantee that our Michigan Panel steel roofs will provide your home, barn, or office with a durable, dependable roof that will last throughout the seasons. We work with our customers to provide honest recommendations of colors, accessories, and qualified, reliable contractors for proper installation of metal roofing materials.
For a metal roof that you can depend on, call or contact us today for your quote or statewide delivery.